Overview of Cranial Osteopathy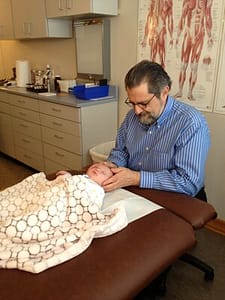 Dr. Masiello has practiced cranial osteopathy since his student days in the mid-1980s and has studied with Viola Frymann, DO and Robert Fulford, DO who were both students of William Garner Sutherland. Visit Dr. Masiello's osteopathic work page to learn more.
Cranial osteopathy is gentle and subtle and often patients will fall asleep during a treatment. It is well suited for patients of all ages, especially children.
Conditions treated by cranial osteopathy
Cranial osteopathy is very useful for conditions such as birth trauma, colic, concussion, chronic headaches, chronic ear infections, chronic sinusitis, hyperactivity, neck pain, whiplash, chronic back pain and TMJ syndrome among others.
Cranial Sacral Therapy
Many people are familiar with craniosacral therapy which was popularized by John Upledger, DO. Cranial sacral therapy is Dr. Upledger's simplified version of cranial osteopathy. Dr. Masiello studied with John Upledger in 1984 and is very familiar with the similarity and differences between the two approaches.
More background on Cranial Osteopathy
William Garner Sutherland was a student of Andrew Taylor Still, the founder of osteopathy. Sutherland graduated from the American School of Osteopathy in 1900 and during the next several decades of clinical practice he developed the cranial concept also known as osteopathy in the cranial field or cranial osteopathy. Visit Dr. Masiello's Osteopathic Manipulation page to learn more about osteopathy and its benefits.
The cranial concept is the application and expansion of osteopathic principles to the cranium and its relationship to the sacrum. Cranial osteopathy involves the diagnosis and treatment of strain patterns in the cranium yet its effects are far reaching throughout the entire body.
Links for More Information