Homeopathic home health kits are available for purchase. This home remedy kit can be ordered from Remedy Source: (301-276-7709) Replacement vials can be ordered from the same website.
 These kits contain 50 of the most likely remedies needed for acute ailments such as colds, flu, indigestion, insect bites, and minor injuries. The kit should be used with self-help books such as Everybody's Guide to Homeopathic Medicines.  This allows you to learn the basics of self-prescribing for minor acute ailments. At first, many patients use the kit as just a repository of remedies and then call the office for help in selecting the correct remedy. However, the ultimate goal is to have patients become knowledgeable enough to take care of all their acute health needs and to utilize a physician's services for chronic care and for health exploration and longevity. The remedies come in a molded plastic case with partitions. All remedies are in the 200C potency. An instruction sheet with reordering information is also provided. The following remedies are included: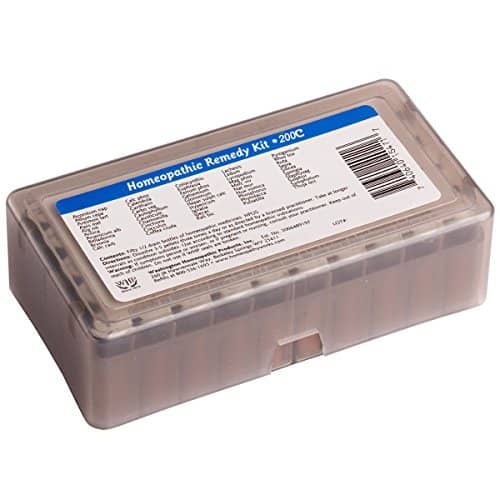 50 200C Homeopathic Remedy Kit. Contains 50 of the Most Commonly Used and Recommended 200C Homeopathic Remedies. Made by the Oldest Homeopathic Company in America: Washington Homeopathic Products
ACONITUM NAPELLUS
ALLIUM CEPA
ANTIMONIUM TARTARICUM
APIS MELLIFICA
ARGENTUM NITRICUM
ARNICA MONTANA
ARSENICUM ALBUM
BELLADONNA
BRYONIA ALBA
CALCAREA CARBONICA
CALCAREA PHOSPHORICA
CALENDULA OFFICINALIS
CANTHARIS
CARBO VEGETABILIS
CAULOPHYLLUM THALICTROIDES
CAUSTICUM
CHAMOMILLA
CINCHONA OFFICINALIS (CHINA)
COCCULUS INDICUS
COFFEA CRUDA
COLOCYNTHIS
EUPHRASIA OFFICINALIS
FERRUM PHOSPHORICUM
GELSEMIUM SEMPERVIRENS
GLONOINUM
HEPAR SULPHURIS CALCAREUM
HYPERICUM PERFORATUM
IGNATIA AMARA
IPECACUANHA
KALI BICHROMICUM
LACHESIS MUTUS
LEDUM PALUSTRE
LYCOPODIUM CLAVATUM
MAGNESIA PHOSPHORICA
MERCURIUS VIVUS
NATRUM MURIATICUM
NUX VOMICA
PHOSPHORUS
PHYTOLACCA DECANDRA
PULSATILLA
PYROGENIUM
RHUS TOXICODENDRON
RUTA GRAVEOLENS
SEPIA
SILICEA
SPONGIA TOSTA
STAPHYSAGRIA
SULPHUR
SYMPHYTUM OFFICINALE
THUJA OCC
Recommendations for Using Home Remedies
Use with Everybody's Guide to Homeopathic Medicines – please read Part I of the book to learn how to self-prescribe.

The vials are small but they really contain multiple doses. One dose is 5-8 pellets.

Remedies in your kit do not expire – the expiration date is just a legal requirement. A hundred year-old remedy works just as well as a new one.

Remedies have many indications but only one is required to be printed on the label. Use the remedy that matches your symptoms regardless of what's on the label.

Not every remedy in the book is in the kit; just the most likely needed remedies.

Putting your kit through x-ray scanning devices at the airport is okay.
Several more things to keep in mind: Do not try to prescribe for a medical emergency. If you suspect a life threatening condition such as a heart attack, stroke, seizure or a severe allergic reaction, etc. call 911 immediately. The kit is to be used for simple acute problems unrelated to your chronic complaints.
If you are taking a remedy on a regular basis that I have prescribed, then don't self prescribe for symptoms that arise while taking your chronic remedy. The symptoms may actually be a response to your chronic remedy. However, sometimes new symptoms are clearly not related to your ongoing case. For instance, if you go out to dinner with several people and you all come down with food poisoning, it is not related to your ongoing case. Likewise, if you trip and sprain your ankle, this is also unrelated. If you are unsure, then simply call the office and ask for clarification. Also call the office if you are not successful in treating simple acute problems after trying 2-3 remedies. See phone consultations for fees.